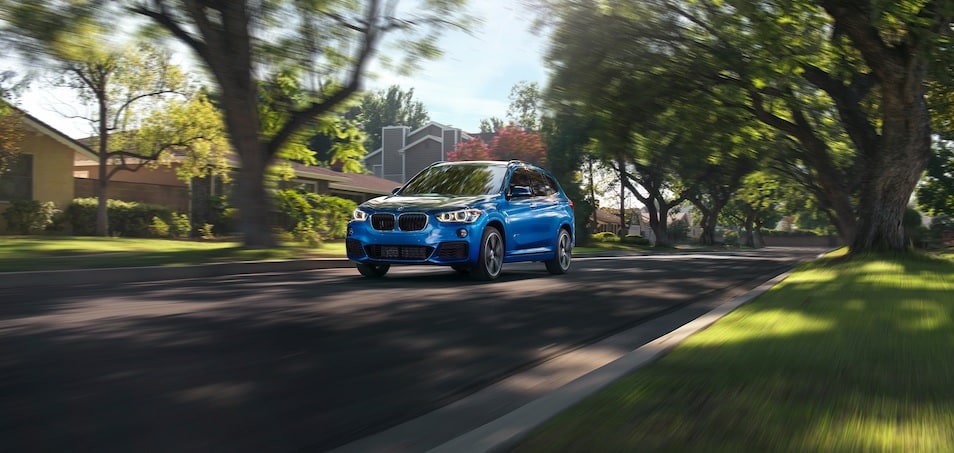 Pre-Owned BMW X1
For Sale in Seaside, CA
There Are Some Great Pre-Owned BMW X1 Models Waiting for Car Shoppers at BMW of Monterey
The BMW X1 is one of the most unique models of the BMW lineup because it's part of the Sports Activity Vehicle® class yet it's on the smaller side of the SAV offers. However, this uniqueness draws in a variety of car shoppers around Santa Cruz that want more room in their cabin than a sedan can offer but also a sportier, nimbler drive than larger models offer.
If this blend is something you're interested in, you should look through all of our pre-owned BMW X1 offers on this page, or read more below about what makes the BMW X1 so special!
Design
While the sleek design of the BMW X1 makes it the perfect SAV for driving through crowded city streets, there is still plenty of room in the cabin for passengers and their items, whether that's luggage or groceries is up to you, and it will probably change from trip to trip! Plus, roof rails allow you to bring along larger items, like a surfboard, without sacrificing seating for your friends.
Additionally, inside and out, every BMW X1 oozes style and refinement, which is something you'll notice with all the attention on you as you drive through Salinas. This style comes thanks to a flowing design for the exterior and cabin as well as the use of premium materials throughout, which also give off a feeling of reliability in your car. To top it off, there is a range of features, like multi-zone climate control, that make sure every passenger stays comfortable.
Performance
As is true of any BMW model, performance is something that every BMW X1 model strives to deliver to Watsonville car shoppers, and it certainly succeeds. Capable engines power the lightweight design from 0-60 in no time while the brakes and responsive transmissions let you come to a stop rapidly yet smoothly, so even when looking for excitement, the BMW X1 feels graceful. Confidence when behind the wheel is vital to making sure drivers and passengers alike enjoy the journey, and it's something you feel anytime you're operating a BMW X1.
Why Buy a Pre-Owned BMW X1?
Style and capability are key traits found in every BMW X1 model, no matter the year, so if you're looking to save some money on your next vehicle purchase, a pre-owned BMW X1 is a great choice. With the pre-owned offers on this page, you'll enjoy an exceptional time behind the wheel, and many of the offers are from recent years, so you also expect the features on the cutting edge of automotive technology. Want an extra dose of confidence in your purchase? Our certified pre-owned BMW X1 models each passed a rigorous inspection before being put up for sale, so you can feel more at ease about their dependability!
Car Shoppers Will Find Lots of Amazing Models and Services to Help Them at Our Dealership in Seaside!
We hope you enjoyed and can use our rundown of what you can expect from our pre-owned BMW X1 offers, but if you have any questions, don't hesitate to contact us and have them answered. Want a brand-new vehicle? We also have a variety of new BMW X1 models for you to look through, or, if you think the X1 isn't the model for you but you want the most value out of your next car purchase, check out the other offers in our pre-owned inventory! Plus, we help our customers find financing for their new car, so start your car loan application today to reduce the amount of time you spend at our dealership!
Make an Inquiry