BMW'S FIRST-EVER ALL-ELECTRIC 7 SERIES.

Designed with next-level style and substance, the i7 xDrive60 is undeniably alluring from the inside out. The expressive aesthetic and latest technology not only ensure your complete comfort, but transform every drive into an executive lounge.

The i7 xDrive60 offers all-electric innovation, groundbreaking design, and powerful driving dynamics - so that you can drive the world.

10 Min of DC Fast Charging*3
Up to ~90 mi

New, illuminated kidney grille and headlight design as well as available Crystal Headlights.
BMW Interaction Bar extending across the cockpit and integrating controls while providing illumination.
Large Panoramic Sky Lounge LED Roof.
BMW Theater Screen: 31 inches, 5G connectivity, up to 8k resolution, integrated with high-end sound system.
THE BMW i7
---
BMW's luxurious all-electric executive sedan will soon be hitting the streets. And now you can be among the very first to drive the future.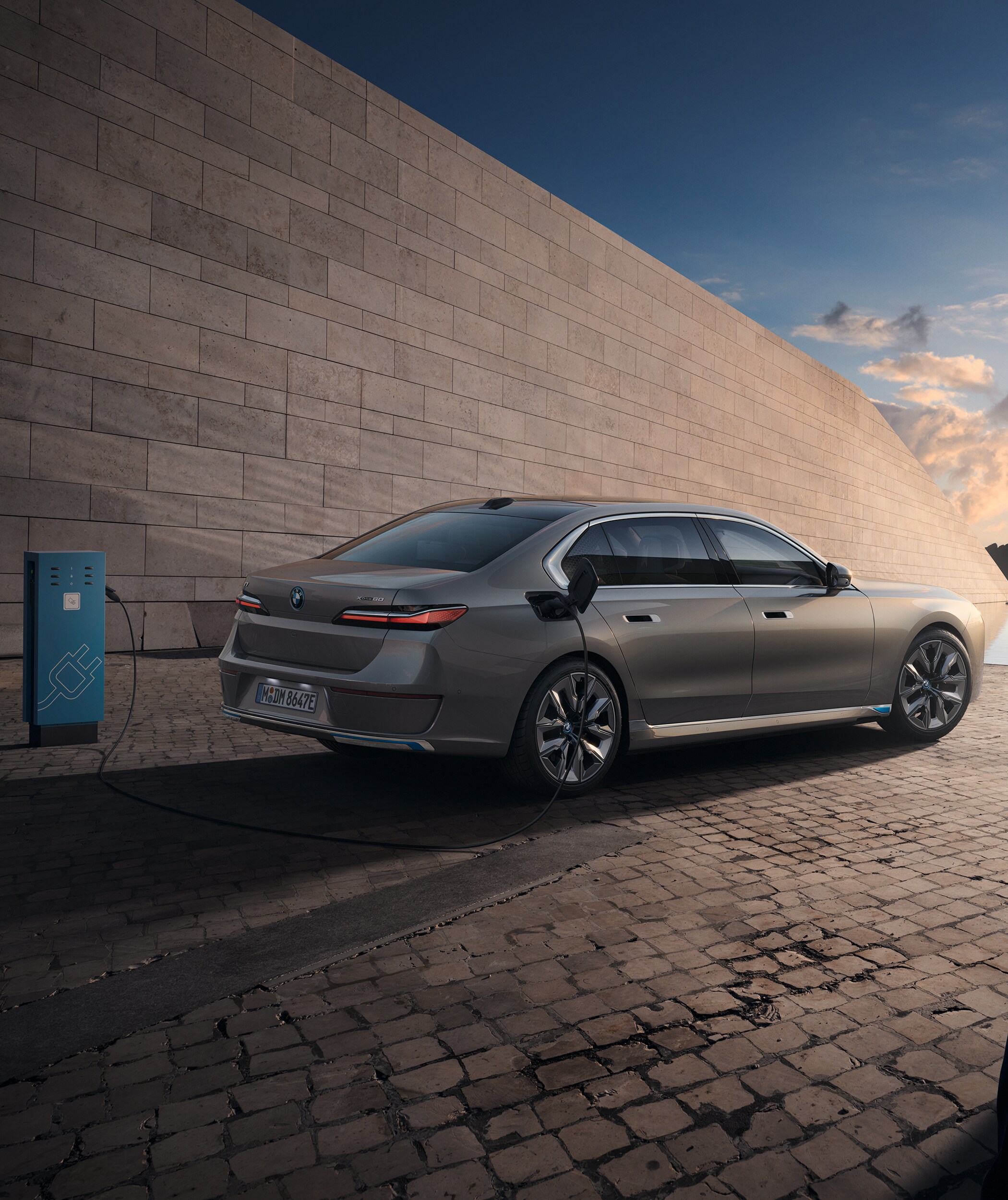 *Manufacturer's suggested retail price (MSRP) for 2023 i7 xDrive60 is not the sales price and does not include tax, title, license, registration, and adjusted market value. Dealer sets actual price. Please consult your dealer. State and local monetary incentives may also be available. Please check:
https://afdc.energy.gov/laws/search.html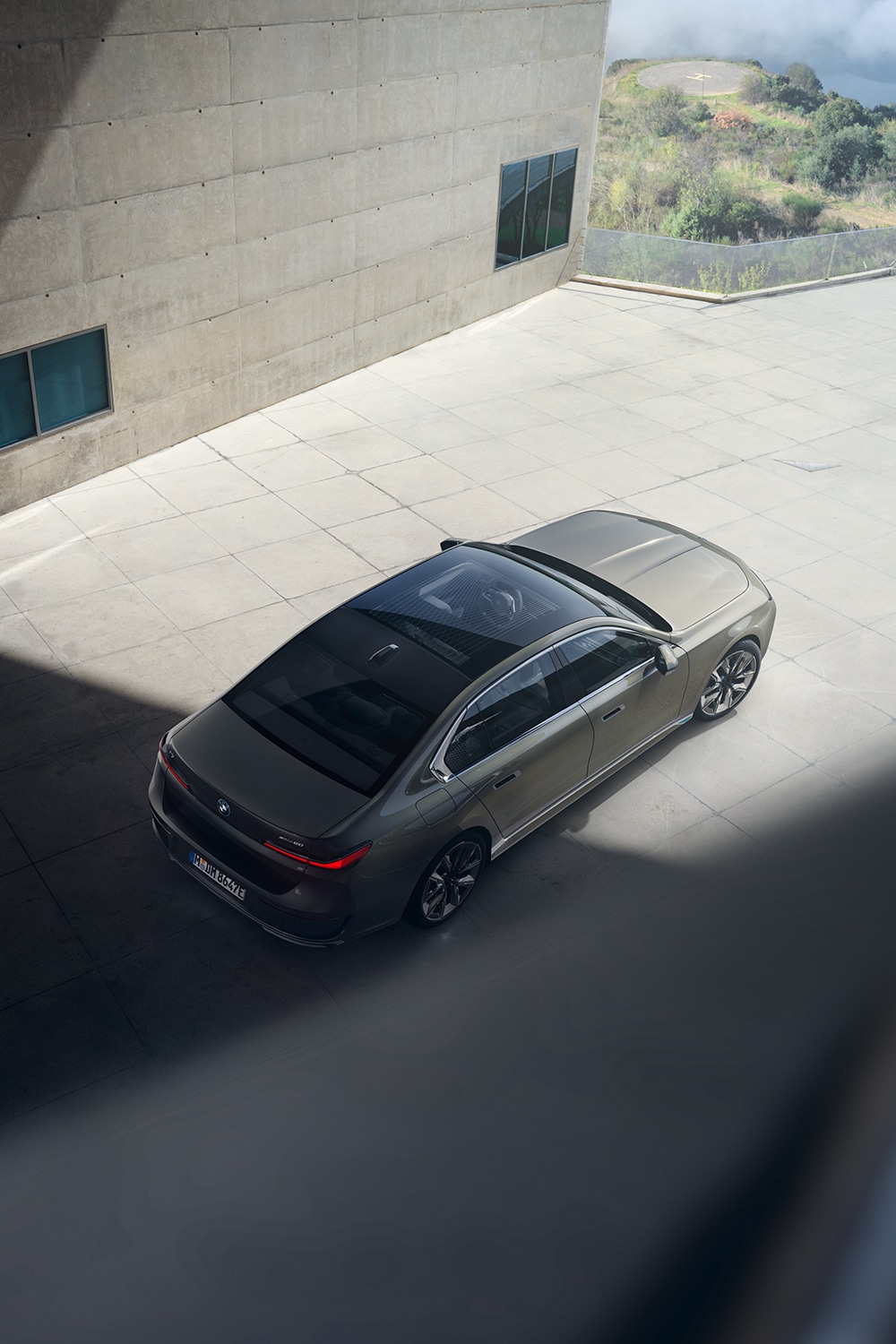 STEP INTO YOUR POWER
Experience authority, luxury, and all-electric innovation. Sign up today to get the latest news about the 2023 BMW i7 xDrive60 Sedan, BMW's first-ever all-electric 7 Series - and be among the first to know when it arrives at your local BMW Center.
Contact Us
Be at the Front of the Line for the New BMW i7 in Seaside
The elegance of BMW models makes the brand a favorite of drivers around our Seaside dealership, and we continue to see more options joining our inventory. Many of these BMW lineup additions are luxury electric vehicles (EVs), including a new electric BMW 7 Series option. The BMW i7 has the bold exterior and executive-ready cabin that drivers expect from the 7 Series, but with an innovative electric powertrain. You can pre-order the new BMW i7 near Salinas with the help of our dealership, which we talk more about on this page.
What to Expect from the Electric BMW i7
The BMW 7 Series is an icon of the luxury sedan segment, and the new BMW i7 offers Santa Cruz drivers a green, zero-emissions option for it. Car shoppers can still expect incredible performance from this luxury electric car as the BMW i7 has up to 536 horsepower and standard all-wheel drive. The BMW i7 has a driving range up to 300 miles, too, so you get exciting rides with less worrying about having to charge up. Plus, the BMW i7 has fast-charging capabilities to add to your range more quickly.
The BMW i7 pre-order process is simple when working with our team. Drivers can put down a deposit before our team reaches out about the packages and design options you want on your BMW i7. We can talk about the features that come in this new BMW EV, such as the Crystal Headlights or the BMW Theater Screen for the rear-row that lets you stream content with 5G connectivity and a 31-inch screen. Other BMW i7 highlights include heated, ventilated, and massage functions for the seats, wireless Apple CarPlay, and many driver-assist systems.
Learn More About BMW i7 Pre-Orders near Monterey
There are many exciting new BMW electric cars near Watsonville, and we can't wait for the BMW i7 to join them. If you have questions about this model or the BMW i7 pre-order process, be sure to contact our dealership today.
*1 - BMW AG preliminary test results. Actual acceleration results may vary,depending on specification of vehicle;  road and environmental conditions; testing procedures and driving style. These results should be used for comparison only and verification should not be attempted on public roads. BMW urges you to obey all posted speed laws and always wear safety belts.  
*2 - Estimated ranges are attainable when fully charged under ideal driving conditions. Actual range will vary depending on multiple factors, including but not limited to: vehicle model, tire and wheel selection, driving style, traffic conditions, and outside temperatures. Some vehicles may not be fully certified by the EPA and US Department of Energy. In this case, the range is an estimate according to preliminary BMW AG tests based on the EPA's test procedure standards. For EPA certification status and additional information about specific models, visit www.fueleconomy.gov. 
*3 - Charge speed measured at maximum vehicle charging rate. Actual charge speed will vary depending on parameters such as battery state of charge when charging is initiated, battery temperature and maximum charging rate of the charging supply, for example.
*4 - The i7 maximum AC charging rate of 11 kW results in a 0-100% charge in less than 8 hours. With the BMW Wallbox (9.6 kW), a full charge can be completed in under 9 hours. In typical situations where the battery is not at 0% when charging starts, overnight charging will easily result in a full charge.
*5 - Maximum power of 9.6kW only attainable when equipped with the correct adapter (NEMA 14-50 or NEMA 6-50 on a 240V outlet).
*6 - Restrictions and idle fees may apply.
*7 - 3 years of charging for the BMW i7 begins upon vehicle purchase. After benefit expires, charging continues at prevailing Electrify America Pass pricing. Your BMW Center will help you enroll at time of vehicle handover. Offer non-transferable. Not available for commercial use, such as ridesharing. Requires Electrify America account creation, enrollment in BMW i7 Charging Plan via the MyBMW app, acceptance of Terms of Use, Privacy Policy, Promotion Terms and Conditions and $20 deposit to pre-fund idle fees. Unused idle fee deposit will be refunded when account is closed. Electrify America reserves the right to make changes to this program, mandate required wait times of 60 minutes between charging sessions, and charge fees for idling beginning 10 minutes after charge session stops or vehicle reaches full charge. Users will be notified of program changes via email. In the event of suspected fraud or abuse or other unforeseen events, Electrify America may discontinue or modify the program in its sole discretion. It is recommended to only DC fast charge when necessary. Frequent and consecutive DC fast charging can permanently decrease battery capacity.